2006
On July 22, 2006 twenty-five artists marked the 100th anniversary of Amundsen's 1906 navigation through the Northwest passage with a journey of their own.
During a twelve day voyage, the group Arctic Quest recorded their impressions on canvas, paper and film as they visited remote Arctic communities to paint and distribute art supplies. On their return they participated in an ambitious program of exhibitions, all planned to coincide with International Polar Year that took place 2007-2009.

The exciting adventure was inspired by artists who went before: artists accompanying the early European voyages of discovery, Group of Seven artists A. Y. Jackson, Lawren Harris and Fred Varley, as well as more recent artists, the late Doris McCarthy and the late Dr. Maurice Haycock, all of whom went to the Arctic to paint and were profoundly influenced and infected with a passion for the North. Following in their footsteps and creating a path of their own, the 25 contemporary artists interpreted and shared their passion for the Arctic between North and South, from East to West. They hoped to draw attention to northern issues such as climate change, sovereignty and the fragile environment, and encourage and stimulate artistic expression by Inuit youth.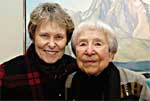 Arctic Quest was officially launched in January 2005 by Doris McCarthy and astronaut/Arctic photographer Roberta Bondar at Toronto's First Canadian Place. In the spring of 2006, participating artists donated paintings, and corporate sponsors contributed a variety of items, to be auctioned for fundraising. On March 25 Sotheby's Auction House raised over $55,000 during a gala event at the historic Arts and Letters Club in Toronto. A painting of Pangnirtung Fiord donated by Doris McCarthy brought $6,000 which assisted young and emerging Inuit artists.
Supporters of the project included the Toronto Star, Sotheby's, Elmer's Products, Inc., Mark's Work Wearhouse, Baffin Boots and others.
Arctic Quest created a culturally and historically important body of artwork. The touring exhibitions of contemporary, historical and Inuit art and educational programs provided an exciting insight on the Arctic for Canadians and international audiences. Exhibition venues included Iqaluit - Nunavut, Vancouver BC, Toronto ON, Philadelphia PA and Alaska, USA.